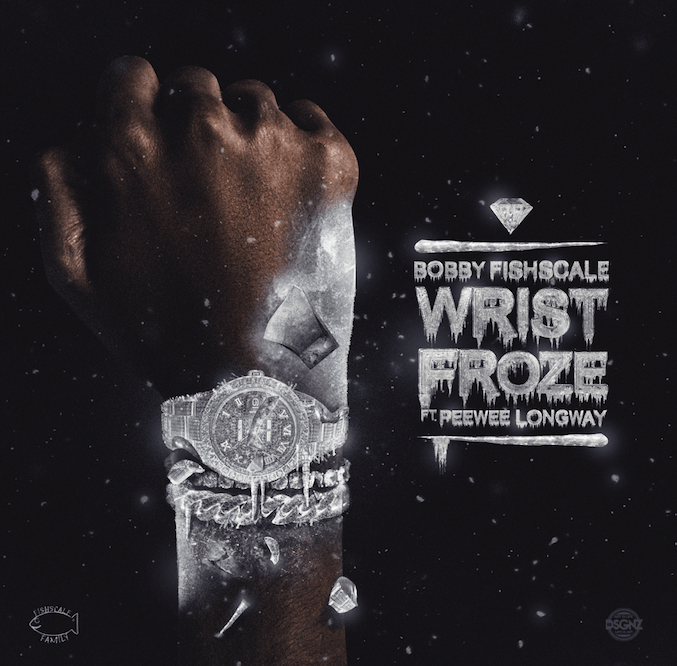 NY, NY— Bobby Fishscale's releases "Wrist Froze" featuring Peewee Longway the second single off of his upcoming project, The Last Re-Up.
Bobby Fishscales' Wrist Froze" is picking up and receiving positive feedback via his social media. Bobby's new single featuring PeeWee Longway Brick Squad member is a long-awaited fan anticipated track.
Producer Carl Paul helps bring out the song with his melodic intro and uptempo hard-hitting drum pattern. Wrist Froze is rap track sing-along and references the counterculture generation of hustling and grinding until you reach your financial goals. It makes sense that Bobby Fishscale snagged rapper Peewee Longway's for his witty, fast-paced lyrics on Wrist Froze.
Bobby Fishscale is no ordinary southern rapper, but a trendsetter who uses music as an outlet for him to express his struggles and pain. Most southern emcees purposely have specific lingo, trends, and makes use of the nightlife.
Fishscale is a lifestyle that embodies style, hustle, and ambition to get to the bag by any means necessary. Recently, coming off the success of "No 9 to 5", "Blue Cheese," and "Hov Flow" freestyle, Bobby teased his viewers with his audio clip, which has grabbed his audience's attention. Bobby Fishscale The Last Re-Up album is set to release on 8/7.
Quotable Lyrics
I really made it out the bando now I can go and cop a lambo
This for my trappers get your bank roll * all them stank *
Grind till your wrist froze
* grind till your wrist froze
Grind till your wrist froze
* grind till your wrist froze
* grind till your wrist froze – Bobby Fishscale
I took the extras from the brick and put that * all on my wrist
Clean 36 them diamonds dancing just like Chris
Trapping till my wrist froze put forgi's on the vette
"Diamonds in my watch freak * – Peewee Longway
---
PR Contact:
Multi Artistry Ent
Avery Watson
E: [email protected]