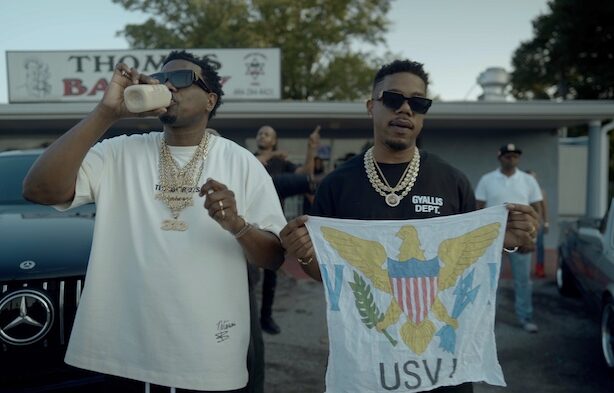 Introducing the latest single "This Is Not A Drill…This Is Really Happening" from the illustrious Caribbean American duo R. City. They are celebrated for their innovative and infectious blend of hip-hop, pop, and Caribbean music, with a track record that includes the internationally acclaimed viral Billboard chart-topping hit "Locked Away," featuring Adam Levine.
R. City's multi-talented Theron Thomas and influential producer, continues to make waves on music's mainstage with explosive contributions, most recently   Lil Durk / J.Cole #1 summer hit "All My Life", Ciara's "How We Roll" with Chris Brown, and Jung Kook and Latto's "Seven".  R. City's collaborations also include Drake, Rihanna, Usher, Miley Cyrus, Nicki Minaj, Justin Bieber, and two Grammy nominated albums for Rihanna and Ariana Grande.
Brothers Theron Thomas and Timo Makaveli of R. City (short for Rock City), have kept fans ravenous for new music. The wait is finally over with their 13-track collection, This Is Not A Drill, which ushers in a dynamic blend of Island drenched UK drill, culminating into a memorable sonic oasis. Over heavy hits of 808s, lush tropical ambiance, and mind-bending flow, R. City incorporates elements from their homeland of the Virgin Islands with the earth-shaking foundation of UK drill for a raw and transcendent journey. R. City reveals, "This Is Not A Drill…This Is Really Happening! is the title for our drill tape because we've been promising our fans music for years and we wanted them to know, we ain't bullshitting this time. We coming."
Combining hip-hop, pop, and Caribbean flavors, brothers Theron Thomas and Timo Makaveli have written hits for Akon, Usher, Sean Kingston, the Pussycat Dolls, Ashlee Simpson, and many others while using the name Rock City, eventually shortened to R. City. Born in St. Thomas, Virgin Islands, the brothers decided after high school that they were going to try to make it in the music business. A move to America was necessary so they came to the States via Atlanta before settling in Miami. There, they began writing for Akon, who quickly signed the brothers to his Kon Live label. After their song "The Rain" landed on Akon's hit album Konvicted, songwriting for others kept them away from their own music. It wasn't until 2008 that Rock City released their infectious single "Losing It", along with mixtape Put the F*cking Album Out. The album in question was Wake the Neighbors, which Kon Live promised for later that same year. The label never delivered, and eventually the album was shelved, while the duo continued releasing mixtapes (issuing no less than eight volumes of PtFAO).
Rock City finally left Kon Live in 2011 and started their own label, Rebelution Records, briefly changing their name to Planet VI for a few years before settling on R. City. Despite all the hassle releasing their own music, they had no trouble scoring hits for other artists, penning enormously successful singles for Rihanna, Justin Bieber, and Miley Cyrus. Additionally, R. City contributed to Grammy-nominated albums by Ariana Grande, Iggy Azalea, and Jennifer Hudson, among others. Dr. Luke signed R. City to his Kemosabe Records, and in 2015 the duo released #WhatDreamsAreMadeOf, an album about the struggles involved with their upbringing in the Virgin Islands. The album's first single, "Locked Away," featured Adam Levine and was a Billboard Hot 100-charting hit. R. City recently released their single "W.A.P.A." off This Is Not A Drill…This Is Really Happening! as an ode to their Caribbean roots. With recent hit collaborations among the likes of Jung Kook, Latto, Ciara, Lil Durk, and J. Cole, there's no telling what R. City will accomplish next.