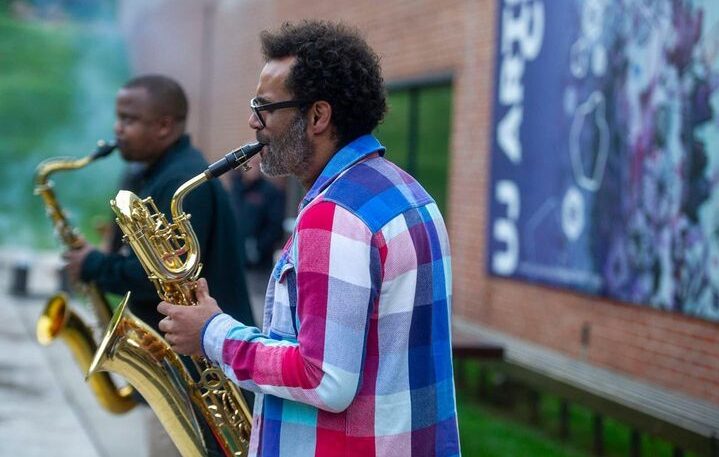 The latest HipHop anthem entitled 'Highwaymen.' is the new release born from the mind of prolific, creative force Proto-Sapien whose talent and skill are more evident than ever on his fresh single. Having been involved in the composing of music for "The Highwaymen" by Daily Maverick, which dealt with the themes of gangsterism within the ruling South African political party, Proto-Sapien utilised his experience and emotions triggered by the podcast and poured them into this carefully crafted masterpiece.
Featuring on the track is the remarkably talented Hyperlect – a rising South African Hip Hop artist who flaunts his musical skills incredibly throughout. Boasting a uniquely dissonant rhythmic pattern and distinct instrumental, 'Highwaymen,' is a truly masterful track enveloped in important messages – an unmissable modern hit.
"Highwaymen" is an impressive and carefully crafted masterpiece featuring rising South African artist Hyperlect. The track boasts a unique dissonant rhythm and distinct instrumentation, creating an unmissable modern hit with important messages. Proto-Sapien's innate ability to create captivating rhythms is evident, embodying Jacques Atalli's quote to challenge the status quo and subvert expectations. Overall, "Highwaymen" is a must-listen for any Hip Hop fan and a promising hope for the future of music.
Hailing from the thriving cultural hub of South Africa, Johannesburg, Proto-Sapien is a multifaceted musical magician not to be reckoned with. From an extraordinarily young age, Proto-Sapien has been infatuated by music and has continually delved into his creative side – mastering various instruments and exploring diverse musical disciplines.
Drawing on inspiration from a rich musical diet and his experience as a Saxophone player in Johannesburg, Proto-Sapien's discography is an idyllic balance between raw grit and minimalism with a focus on every track to bring out the groove! With this being the core roots upon which he has masterfully developed his sound, Proto-Sapien regularly flaunts his innate ability to create captivating rhythms that keep his audience hooked from start to finish.
Proto-Sapien keeps one key quote at the heart of his musical persona, one from Jacques Atalli, – "With noise is born disorder and its opposite: the world. With music is born power and its opposite: subversion." He embodies this poetic message and uses the power of sound to challenge the status quo and subvert expectations – a remarkable artist whose hunger and desire for success is almost tangible; certainly a promising hope for the future of music.
Support Proto-Sapien on Social Media