LaMelo to enroll at Spire Institute in Geneva,...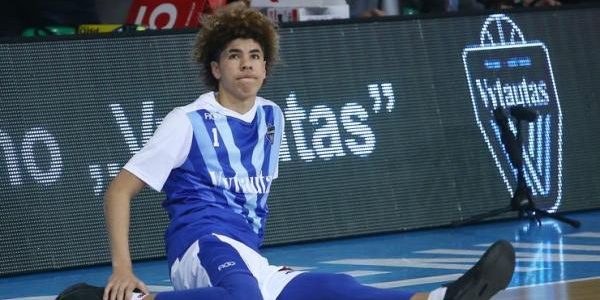 LaMelo to enroll at Spire Institute in Geneva, Ohio.
LaMelo Ball isn't going back to Lithuania or Poland or any other European country to play professional basketball this season. According to a report by SLAM, LaVar Ball's youngest son will instead be playing against kids his own age, right here in the United States.
LaMelo, 17, will reportedly enroll at Spire Institute in Geneva, Ohio and he is expected to make his debut on November 13 against La Lumiere in Indiana. SLAM notes that because Spire Institute is a prep school instead of a traditional high school, LaMelo will be eligible to play against other top prep schools.
"I'm excited to return to school and rejoin my class on the court for my senior year," says LaMelo, according to SLAM. "Playing in international competition was a great experience. I learned and matured so much. I appreciated the JBA experience my dad provided for me. I think it helped my development. I can't wait to play with my peers."
Prior to dropping out of Chino Hills High School in California to play pro ball overseas, LaMelo ranked 7th in the country in the Class of 2019. Since then, he and his brother LiAngelo have played for Lithuania's BC Vytautas, as well as the Los Angeles Ballers in their father's Junior Basketball Association.
In other Ball news, Shams Charania reports that LiAngelo has notified NBA G League teams that he is planning to enter the player pool to sign a G League contract. The 19-year old went undrafted in the 2018 NBA draft after dropping out of UCLA.
I've decided to return to highschool and complete my senior year. I thank my dad for the JBA Experience and playing overseas. I've been accepted to attend Spire Prep Academy in Geneva, Ohio where i look forward to earning my highschool diploma and winning with my new team! pic.twitter.com/FQzta0PiNE

— Melo (@MELOD1P) November 6, 2018
EXCLUSIVE: LaMelo Ball is RETURNING to high school.

He'll enroll at SPIRE Institute in Geneva, Ohio and is expected to start playing next week: https://t.co/Ms3SSNQIbN pic.twitter.com/SUqvJ9mnmB

— SLAM (@SLAMonline) November 6, 2018
Ryan Kyle
Rayne Klye is an editor for 24Hip-Hop. He keeps you in the loop nightly by updating the site with your favorite songs, videos, mixtapes, and news stories, all while maintaining our social media game to be on point. His appreciation for art, and love for sports & fashion makes this Chicago writer very knowledgeable within the entire urban culture ...