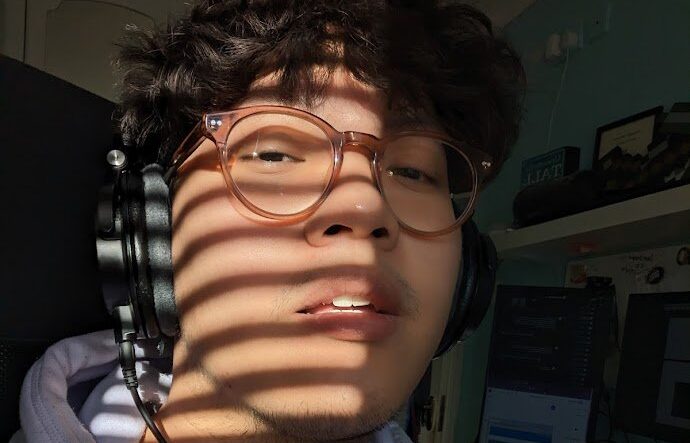 We are already three months into 2023 somehow, and Joece is keeping track of time with his latest concept of dropping one song per month.  This past February, he stuck to that, dropping the second of his 12 planned singles; this one is titled "moonwalker".  According to the artist himself, he's experimenting with his sound now in an attempt to become a musical Renaissance man.  His genre blending style truly shows how diverse this worldly artist is already and is capable of being.
The Baguio City, Philippines native has spent most of his adolescence in Ireland, but his sonic sights reach far beyond Asia and Europe.  This is exactly the case with "moonwalker"; the artist himself describes his latest track as a "shoutout to hyperpop and hip-hop…with inspiration from glaive and Joji", and that about sums it up perfectly.  The Asian-born, Europe-raised artist has sought inspiration from American stars and combined that inspiration with his own true experiences that makes for a very unique listening experience.
"Most of my songs relate to past love lives, as well as the dreams of 'getting away' with your significant other," said Joece.  "Surprisingly enough, most of these songs aren't anecdotal but are inspired by my past experiences."
Experience is the magic word for Joece, who takes his life story and puts it into his creations with much more ease than most artists do.  It's a testament to how much he's already accomplished, and at this rate, who knows what else he is capable of doing?
"I use those past experiences and the lessons I've learned to create stories for the listener, which in turn transforms to lyrics, which in turn provides the vibe and atmosphere of the track," said Joece.  "A recurring theme of mine is loving someone so much that you want to 'escape to space' with them, and you want to take them to 'galaxies far away'."
To add onto the already impressive resume Joece is building for himself, he produces, mixes and masters all of his music by himself.  He's been teaching himself music production for almost five years and has recently come to the realization that no matter what, a song won't come out perfectly.  And that's okay.
"I used to be so critical of myself as I wanted the music I was releasing to be one hundred percent correct," said Joece.  "However, in the last year, I've learned that it's impossible to create a song that is one hundred percent complete, so I began the healing process and learned to have fun with music again instead of hyper fixating on small details that no one would notice."
So, what's next for the prolific Filipino creative?  He's got a lyric video dropping soon in addition to the 12 songs he's planning on dropping this year.  He's got ten left to drop in 2023, and we hope that he's got hundreds of tracks in store for us for the coming years.  Joece won't remain underground for long, so hop on the bandwagon while you can.
Visit Joece's website: joeceofficial.com
Connect with Joece on Twitter | Instagram | Tiktok