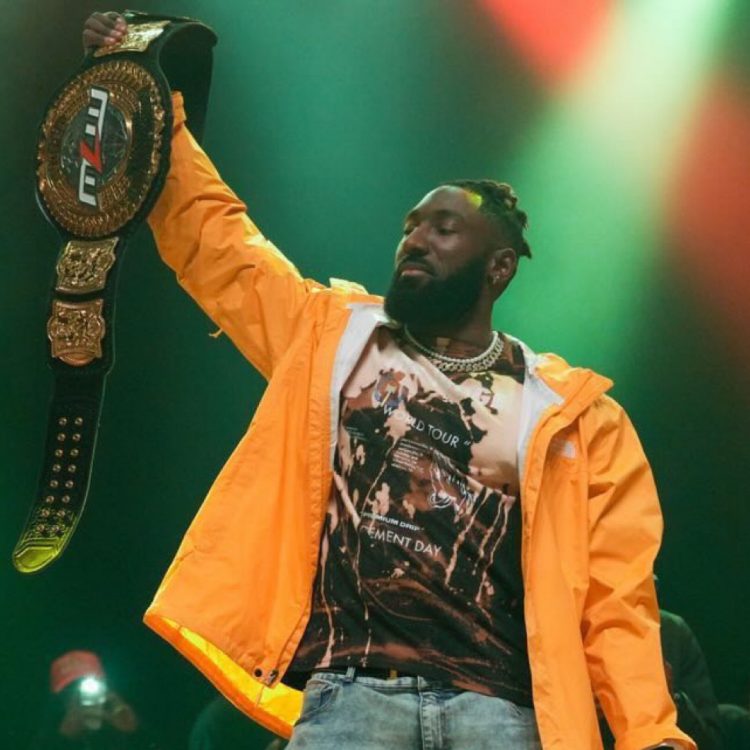 Q: What's your name and where are you from? 
A: My name is EJ "The Judge" Nduka. I was Born and raised in Dallas TX
Q: Why do you love wrestling? 
A: I love being able to step in the ring and motivate and inspire others. It's the perfect combination of pure athleticism and using your creative artistic side. I love the person I transform into once I step into those ropes and "(Judge)ment Day" begins.
Q: What makes you different from your peers in the industry? 
A: I'm 6"8 290 pounds with the agility of a jaguar. This year marks my second year of wrestling, and I'm already innovative. My first year brought fashion and fitness to the industry and now everybody under the sun is all of a sudden a sneakerhead or a pro fitness athlete. Right now no one in the industry looks, talks, or moves the way I do. I enjoy being different and innovative. Yet learning from the GOATs before me.
Q: Where do you see yourself in 5 years? 
A: I see myself being the biggest name in sports entertainment. Having a family back in Texas and influencing kids and young adults all over the world.
Q: What do you bring to the world of wrestling? 
A: I bring "the light" and culture to the wrestling world. I am the blueprint for the ideal work attitude and enthusiasm. My sports background is diverse, from playing professional football to professional bodybuilding competitions and now wrestling. Honestly, I feel it plays a huge role in making me relatable to a wide range of fans and demographics. Along with my passions and love of family, religion, and fashion.
Q: What do you want to be remembered for? 
A: Being "the light" as well as being an excellent father and husband.
Q: Why do you wrestle? 
A: My why, is to shock the world and show them no matter how many odds are stacked against them, if God is for them, then no man can be against you. Since getting into this business everything has been an uphill battle but God has been with me and has been my core strength to overcome those battles.
Q: Who were your favorite wrestlers growing up? 
A: The Rock, Stone Cold, Dvon Dudley, Rey Mysterio
Q: Who had the greatest influence/impact on your career? 
A: Konan has been a great mentor in the business. I appreciate all the help Edge gave me at the beginning of my career. Training with Dvon has completely helped me take my skills to the next level. Also, appreciate all the help and advice Scott Garland has provided.
Q: When did you decide you wanted to be a pro wrestler? 
A: Pro Wrestling found me shortly after I became a Pro Bodybuilder. My wife's best friend Anastasia approached me one day after service and recommended I look into it. Looking back on it as a kid I was really into The Rock. Loved the charisma, his football background, and presence. As I got older I got more involved in sports and earned a scholarship. But later in life wrestling found me again
Q: Do you ever get tired of constantly working shows? 
A: Never!
Q: Who's your closest friend in the industry? 
A: Reggie, Odyssey, Omos, Austin Theory and Jade Cargill
Q: What was your favorite match? 
A: When I won the World Tag Team Championship Title in North Carolina.
Q: Who do you enjoy working in the ring the most? 
A: Anyone and everyone. I enjoy creating magic with anyone. I enjoy challenging myself with different wrestling styles. But I do enjoy it when I get in the ring with the boys: Reggie, Odyssey, Omos, Austin Theory, Adonis the Body
Q: What is your favorite match that you've been in? 
A: World Tag Team Championship match in North Carolina this year. It was epic and the crowd went completely insane. Which ultimately pushed me to give a high-energy performance and bring home the belt with my fellow Tag Team Champion Calvin Tankman.
Q: What do you want to accomplish in life? 
A: I want to be Time Magazine Man of the Year, and to Win an award at the ESPYS. I ultimately want to be one of the most decorated Sports entertainers in the World and to continue to spread "the light".
Q: What are your most memorable achievements to date and why? 
A: Being the only undefeated wrestler in Major League Wrestling and holding the record for the most amount of eliminations in a Battle Riot. A record only tied by Roman Reigns who is the Universal Champion in the WWE.
For more information about EJ "The Judge" Nduka or bookings please contact him or his management team at [[email protected]]. Visit and follow his social media pages to stay up-to-date with the World Tag Team Champion.
EJ "The Judge" Nduka: Instagram | Twitter | Watch I Am EJ NDUKA "The Judge" on Youtube