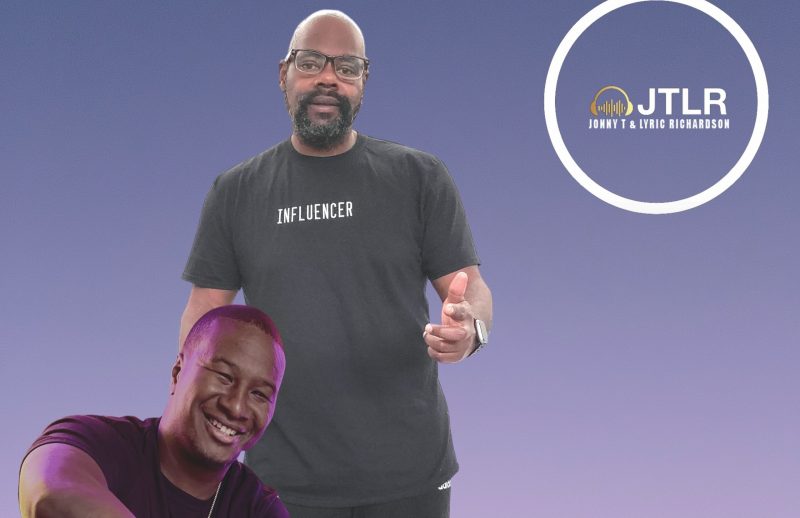 What is your name and what city do you rep? 
MC Jonny T & Lyric Richardson and we are JTLR. Most of our upbringing was in Inglewood, Ca.
Tell us about your latest releases, what inspired you to create them?
Our latest song "The Thickies" was created as a work for hire. There is this online crew of plus-size models that hired us to create a song for them. At first, it was going to be as simple as that, but as we started talking more, ideas and concepts evolved to an actual commercial release and a merchandise line. Seeing how we are being interviewed here, it was probably a really good decision to run with it. We have a lot of love for the plus-size community. Our previous release "Chubby Girl Swag" celebrated them last year, and we see "The Thickies" as an extension of that celebration.
What is unique about you and your music?
Our sound is influenced by vibes from the 80's and 90's and we figured out how to incorporate those feels into a modernized production value. Our musical presentation is as unique as our personal interests that include NHL, WWE, AEW, UFC and we are both classroom teachers full-time as of this writing. We incorporate elements from all of those factors in our content lyrically.
What shaped your music?
A combination of our upbringing and life experiences. Like anyone else, we have had our share of tragedy and triumphs. We are both optimistic people and we choose to stay in that space creatively. There are enough recording artists covering life from a less than optimistic standpoint. The essence of "us" shapes our music.
When did you realize you were going to make music professionally?
Lyric Richardson: When I left football in high school to travel with my high school choir.
MC Jonny T: After winning my first talent show in high school and winning a record deal.
What type of music do you listen to?
A JTLR curated playlist would be super diverse across a lot of decades and genres. Groups and artists like Earth, Wind, & Fire, the Commodores, Culture Club, EPMD, Positive K, Outcast, Usher, Bruno Mars, Doja Cat, Jack Harlow, Eminem, Nas, YG, Nipsey, TQ, Tupac, Grover Washington, Jr. We are all over the place with the music appreciation.
What inspires you to write music?
Lyric Richardson: My music is inspired by a great many things! Sometimes it's others artistic creations like music, paintings, poetry, or movies. Other times it's by real events in my life or that I've observed from others. Sometimes it's just as simple as my boy JT saying here is my verse, you got second verse or as complicated as getting out my feelings.
MC Jonny T: I'm mostly inspired by anything that triggers an emotional response – happiness, anger, excitement, etc. Sometimes, I hear a dope track and that's all it takes to get ideas flowing.
Inspiration comes from perceived and real experiences.
What do you do when you don't do music (creative or otherwise) and that you are passionate about?
Lyric Richardson: When I'm not creating music I'm playing hockey, video games, or doing the family thing. Both my sons are athletes and play sports on a national level, and my daughter is a musician as well so they keep me plenty busy.
MC Jonny T: My responsibilities extend beyond the creative space. I manage other recording artists with my partners Radabus Torres & Fatimah Mirbaha at RINO Management. Our roster includes plus-size superstar Jamie Lopez, Barbie La Vie, and the legendary Hit Squad (founded by Parrish Smith from EPMD) members RJ Da Realest and Villa G, Madd Scientist, and of course my brotha Positive K! Otherwise, I'm watching wrestling, survival shows on Discovery, or watching these carbs, haha.
Happiness to you is…
Peace, love, fairness, and good health for all.
What do you wish you were told when you first started making music that you think would help artists just starting out?
Lyric Richardson: I wish I was told it's less about the "hunger" and more about the love and exposure. To perfect your craft/passion and find ways for the masses to get ears on it.
MC Jonny T: I second that!
Tell us about your upcoming projects…
We landed a placement for the opening credits of a nationally televised reality show premiering this summer. There will be another JTLR Christmas project later in the year. We are going to really go hard with our current single The Thickies. It's getting a lot of love and we appreciate every bit of it.
Where do we find you music / music projects?
Our website jtlrmusic.com will take you to all our releases, press coverage, news, and social media. It's updated very regularly, too.
Any last words for the readers?
Spread love, light, and positivity. Follow us on social media and we will follow back.